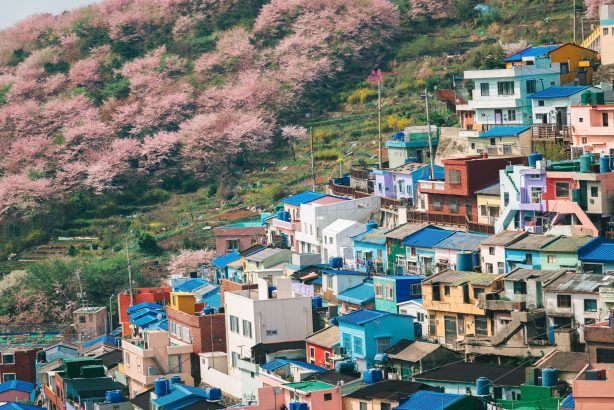 Busan is a bustling and most happening city in South Korea. It is second only to the South Korean capital Seoul. But, it has a lot to offer for the tourists visiting the city. I was told by a very good friend who traveled here for his Law Firm, Avant and fell in love with the city. I was thrilled to get a feel of the popular and historic temples, arts and culture as well as enjoy some sumptuous Korean food.
Top Places to Visit
Busan Tower
If you like to see how Busan looks and feels from above, then visit this wonderful 120-meter high tower. It is an architectural marvel and a wonderful tower to get a grand view of the port.
Gamcheon Culture Village
I would like to say that your trip to Busan is incomplete if you do not visit this colorful village. It is fully decorated with artworks, painting, and drawings that are filled with main stairs and narrow zigzag streets. Climb the mountain on winter village clings to get a bird's eye view of the painted town.
Haeundae Beach
This is a very attractive sandy beach that is on the edge of Busan city. I thoroughly enjoyed the lovely sunset here and also loved playing in the crystal clear sea water and sand.
Haedong Yonggung Temple
This is a Buddhist temple that is located close to the coast. You get to see the sea from the temple. This is where you get to know more about the Korean religion. There is a staircase that leads to the temple and as you move along the side you find local street food delicacies sold on either side of the steps.
Busan Aquarium
This is a must see aquarium for the entire family. It has over 35,000 varieties of fish, reptiles, and algae and gives you a complete insight into the marine ecosystem.
Busan Modern History Museum
Am interested in knowing about the history of the city I visit and hence enjoyed every bit of time I spent at this museum. It has everything from details about Busan, its history, the Korean War and much more historical information.